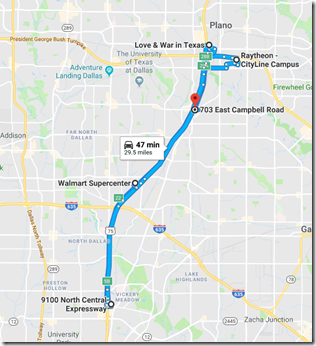 Wednesday, October 17, 2018 – The training continues..
Waking up at the signature 6:45am timeslot, it is essentially a repeat of the previous day – shower, change, get downstairs to the lobby. We're back to CityLine to kick off the next class in the program, which is a detailed look at the Department of Defence Architecture Framework v2.02. As before, breakfast at 7:30am. We had a full day but it finished around 4:30pm so optimistically I talked Will and Peter into an ill-advised trip south down the freeway in a vain attempt at reaching a record store. Alas, peak hour traffic doomed the endeavour and as we had committed to a dinner date with some colleagues from our course, we turned back north about half way. So instead we visited an American retail institution: Walmart.
Here I bought two huge Minecraft figures for the boys as well as a jar of Rufus Teague "Touch 'o Heat" BBQ sauce, plus a large bottle of Tabasco Chipotle flavoured hot sauce. I might have picked up extra stuff, but I was busting for the toilet which I found once I'd cleared the checkout. Once having regrouped, we continued north to a BBQ restaurant called "Love & War in Texas". I took a photo of the menu so you can see for yourself what was on offer: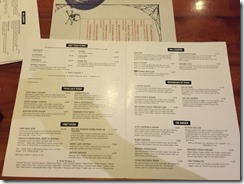 I ordered the hot wings as an entrée (they were divine) followed by a main of buffalo fajitas which were sizzled on the hot plate. It was a fine meal.
Will had sliced boar! I had a beer which was brewed from grapefruit which was oddly quite nice.
Owing to the extra early start the next day, we wrapped at about 9:30pm and head back to the Hyatt for final preparations.
The next day was not just the final day of training for week 1, but also the day Peter and I made our return trip to Australia – it was going to be a long day!
I was so tired,I turned in at 10:30am, but this backfired and I was awake around 3am briefly.