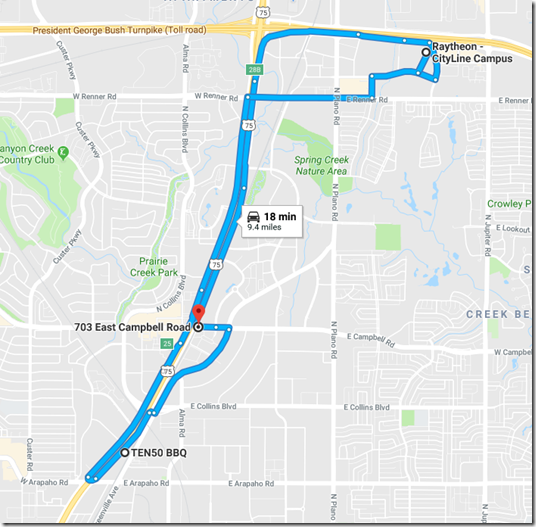 Tuesday, October 16, 2018 – More training.
Woke at 6:45am after a reasonable night's sleep. I swore these early mornings were going to kill me, but it turns out they did not. As breakfast was catered for at the Raytheon facility, there was no need to stay at the Hyatt for too long, so I showered, changed, and head down to the lobby to meet Peter and Will for the rain soaked drive to CityLine. The breakfast was good (the catering was generally quite good throughout the course) and the training ran almost like clockwork from 8am to 5pm.
After training, we drove directly to a Texan BBQ place called Ten 50 where we ate BBQ – as you approached, you had to select slow cooked meats just outside the entrance before heading in to purchase sides and drinks.
I had brisket, ribs and BBQ corn with a local craft beer on top. It wasn't exactly cheap, but the meat was excellent, and we got to know some of our US colleagues better over a good hearty meal. A few hours later we returned to the Hyatt, Peter called it a night, but Will and I kicked on at the downstairs bar for a bit. Suffering from mild meat coma, I Skyped home before crashing at 11:30pm.