Journey Map

Resort day
We woke to mixed weather, it was sunny but also cloudy with scattered light sleet. It was brisk, but not too cold, and as I was the first person up, I decided to walk down to admire the view offered of the lake and surrounds.
Resort Map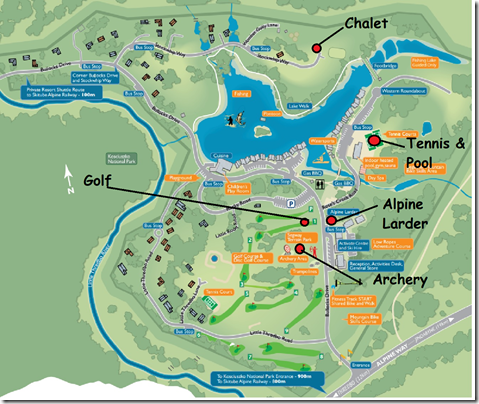 When I returned everyone was up, and we ate a breakfast in the chalet, which we'd later work out was included with our stay over at Cuisine restaurant. Oops!
Panorama facing the main resort
So we weren't really sure what to do next. The weather was unpredictable, but we made plans anyway.
Damian wanted to play tennis, so he and I gathered our stuff and found the footbridge across the lake and on up to the twin tennis courts, near the pool & gym.
Tennis anyone?
We played despite the odd bit of sleet mixed with sunny breaks through the clouds. It was still brisk, but we played on. Toni and Jake turned up and we played some unstructured doubles (as much as you can with a 10 and 8 year old who've only just learned the basics).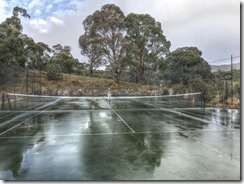 After we finally wound up, and decided to move on – we had a look at the pool & gym next to the courts. I must say, this is one of the best gyms I've ever seen in a resort. A generous range of exercise equipment, plus a full weights room, plus a sauna and large indoor heated pool (28 degrees). The walls were laced with framed sports memorabilia and jerseys autographed by an impressive array of sports stars.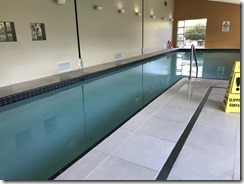 Rather than cart around the tennis gear for the rest of the afternoon, I took the gear back to the chalet, taking photos along the way.
I made myself a coffee and charged my phone which had inexplicably discharged to ~18% from a full charge when we left. I then got a text that the others were at the Alpine Larder having a break, so I drove the car around to meet them there. Toni had ordered me a takeaway coffee, so we waited and then made away with our beverages to the nearby activities centre.
Archery for all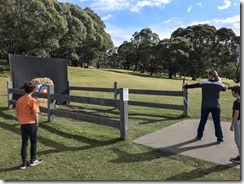 We intercepted another guest returning a set of bow and arrows, and then made our way across the road to spend some time learning (or in my case, relearning) how to correctly fire arrows into willing targets (large bails of hay with targets attached). We spent some time here, while the kids alternated between archery and a collection of nearby trampolines.
6 Hole 3-par golf.. ending in a fight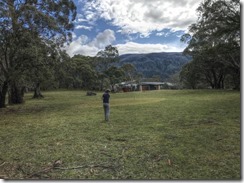 Finally, we decided to wrap up, and grab two golf hand carts, and try our hand at the 9 hole 3 par golf course. The course is compact but challenging, with short but sloping greens and plenty of traps in between. Everyone did mildly well considering, and I even scored a legitimate double bogey on one of the holes. Unfortunately, a fight broke out between two 'hangry' kids, and that was the end of golf.
Return the gear, search for lunch
We returned the golf equipment to the activity centre and then found the car and drove down to Cuisine. '
Unfortunately, they only do breakfast and dinner – so back to Alpine Larder. I had a chicken burger with chips (not on the healthy list!) but the meal was what we needed, and after enough time, we drove back to the chalet.

Everyone chilled out and relaxed. The kids entertained themselves and T had a rest. I put up my feet for about 15 minutes, but decided I couldn't rest.
Solo Bushwalk
I put my hiking boots on and made my way out and onto a solo bushwalk to the Thredbo river & Bullochs hut. The walk threads north and west towards the parking lot for the ski tube, then threads north again following the Little Thredbo river where it joins the main Thredbo river.
The path is dual purpose – for walking and mountain biking. There were two grades, one beginner and one for intermediate. The path behind the chalets and then into the alpine forest was superb. It was about 3-4 kms or so as a return trip, and I did they whole thing in just under half an hour.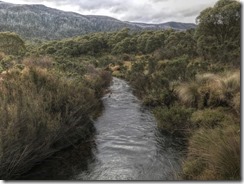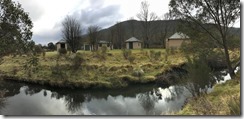 The river is quite wide, and bounds the Bulluchs huts to the shore on the south side. There was a large road bridge nearby for access deeper into the national park.
On my return trek, I encountered random wildlife including two curious but cautious kangaroos who watched me as I passed them.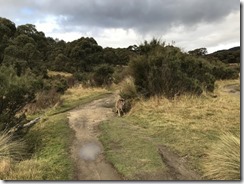 Back to the chalet – more tennis? swimming?
We're back to tennis and swimming – once again getting in some exercise as the sunlight began to fade. Afterwards, we returned to the chalet; to wash up properly (chlorine). Just before dinner time, friend Uncle Matt arrives from Canberra to spend the night and the following day with us at the resort. We make the kids dinner at the chalet, but don't have enough options for the adults.
We return to Jindabyne, but we can't get in anywhere as we didn't make any reservations. In the end we opt for take away Thai and another visit to Woolworths for supplies. I'm wrecked from over doing the activities, and I can't walk properly. Jake has urgent bathroom needs, so the whole thing becomes a little farcical. We buy food for dinner the next night as most places appear not to trade on Sunday nights.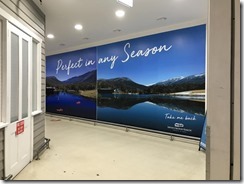 Advertisement for our accommodation outside Woolworths at the Digger's marketplace.
Back to the resort, it's dinner, card games and some TV before finally – and belatedly – calling it a night.