Today we lost the day to driving, getting up at 7am and departing Coffs just a fraction after 8am. We made excellent time to Newcastle, only stopping for fuel on the way, and arriving just after midday.
Upon reaching outer Newcastle, we traversed into the centre of town and Toni dropped me off at Black Pug Records in Islington, while the family backtracked to a playground at Islington Park.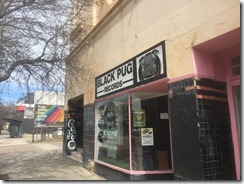 I spent a while chatting and browsing before making two purchases and then getting picked up as we made our way further south via Charlestown. We stopped briefly at Warners Bay (there's another record place here btw) before moving to my grandmother's place at Valentine.
My grandmother is something of an enigma, she just turned 95 years old, and still manages to get by in a three storey house by herself. She was in need of some assistance when we popped by, so the timing was good.
We spent a couple of hours before bidding farewells and hitting the road again.
Still making excellent time on the road, we managed to traverse the outer northern suburbs of Sydney and in through the Lane Cove tunnel/harbour bridge to arrive around 6pm at the Wyndham Sydney.
After sorting out our parking situation and getting our bags and assorted items up into the room, we crossed the road and had a great dinner at the Crown Hotel, which is a hidden gem on Elizabeth St.
The meals are always great and it's relatively inexpensive for the Sydney CBD. Toni got some milk and bread from World Square while I took the boys back to get them settled. There's a leaking pipe in the wall of the room,so I expect we're in for a long night.