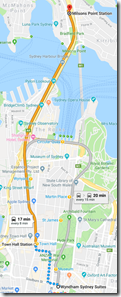 Sydney Weekender
You're in Sydney for one day on a weekend- a Sunday – what do you do?
If, like us, you have two kids (aged 5 and 6) then the answer might emphatically be: Luna Park!! Well, that's what the answer was in our case.
Casting aside all the rest of what Sydney has to offer, with a fixed and uncompromising determination we made plans for a day at the aforementioned North Sydney heritage icon.
We woke around 7:00am to hoots and so forth (general carry on), but after satisfying food/drink urges, left the minions to be entertained by ABC 4 Kids while we returned to sleep. I had awoken with a nasty headache, and no amount of ibuprofen or paracetamol would satisfy it. This carried on well into the morning to my chagrin. Once we rose again from slumber, it was closer to 8:30am so we started the breakfast/shower routine. By the time we were properly functional it was 10am and so we hit the mean streets of Sydney. First stop: Castlereagh St where I popped into a games shop and picked up two items. I was later joined by the cohort who provided coffee and unwanted chocolate milkshakes.
I ducked back to the Wyndham while Toni bought some additional Opal™ cards for herself and the boys, since train travel to North Sydney is far cheaper than a taxi, and we didn't want to move our car from secure parking. Plus, the added bonus of a train ride for the boys – both of whom love trains. So I returned and we walked down to Town Hall station. Once we swiped in, a quick bathroom break was necessary for both boys, then we hit platform three for the quick journey across the bridge to Milsons Point station.
It was a fairly quick journey from the station to the harbourside and Bradfield Park. It is literally all downhill, which is actually worse when two sets of young legs are bounding ahead in joyful anticipation of a fun park.
Luna Park


We approached from the car park side, and saw the famous mouth/entrance. Once we reached the gate, it was a short walk to the ticket queue. A man came by on his way out and pointed out to us that there was a near-empty ticket location further in that would save us the wait (thanks!!!!), we took his advice and he was 100% correct. From there we went directly across to the wild mouse coaster, which I believe is the only permanent rollercoaster left in New South Wales since Wonderland was closed over a decade ago (a very sad state of affairs). More so, It turns out there are only three left in the world.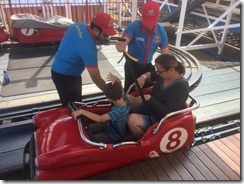 So our family of four rode the tiny coaster, and it offered a lot of thrills. We paid for copies of photos at the end to commemorate our trip. From here we went to the Ferris wheel to acclimate with the park's surrounds. It was a beautiful day and the views were impressive, especially towards the bridge and Opera House. After the wheel we set off for additional rides, starting with a merry-go-round. From here we split – Toni and Jake went on the Tumblebug while Damian and I went in search of the UDrive (past Coney Island). Except, rather than going to the U Drive, D and I went into Coney Island and dropped down an amazing indoor slide instead. We then exited and made our way as planned.
Jake and Toni caught up with us and Jake managed to get onto the U Drive (the last remaining seat) despite a lack of queueing time. Once that motored around in a few laps of a short track, we looked at the Mystery Manor (haunted house) but it was only for ages 12 and over, so I went in alone. It was fine, the only issue was the shots of compressed air that fired occasionally, but otherwise I quite enjoyed the detail. Recommended for horror buffs, and those who don't look to closely at the details. From here we split again, Jake and Toni went on the Spider while I waited with Damian for the Whirly Wheel (a miniature ferris wheel). Toni and Jake returned to join us as Damian went up in the wheel. Then, both boys joined the adjacent junior pirate ship which rocked to various angles, mostly inoffensive ones. The sun was above us making photography a tad tricky.
From here we made our way back to Coney Island (properly) and spent time on the various attractions – notably the slides, the hall of mirrors, barrels of fun, the Wonky Walk, the spinning wheel, turkey trot and I thumped my way down the Devil's drop. As I found out later when writing, this is the only example of 1930s funhouses left on the planet. The interior and attractions are almost identical to those operated when the park opened (slight upgrades to adhere to modern safety standards). It's an incredible slice of history and a great way to travel back in time.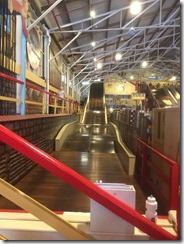 We exited and started to head towards food. D and I went ahead while the others got lost in the hall of mirrors. D amused himself with the crazy reflective mirrors before the others arrived and we put in our food orders. We slammed down the chips and burgers and such surrounded by the sights and sounds of the harbour, including rock and roll dancers and singers. After lunch we checked out the Rotor(a bit like a Gravitron) but so close to having consumed food, it didn't seem like the wisest move. Instead we split, Damian and Toni went off to queue for the dodgem cars whilst Jake and I queued again for the mouse coaster. It was a longer wait, but the ride was still worth it.
When we got out Toni and Damian were cruising along in their bumper car, so I got some photos of them cruising around. Yet again we split, Damian wanted to return to Coney Island to go on the spinning wheel thing whilst Toni and Jake went on something else – the dodgem cars if memory serves. They joined us in Coney Island afterwards and we did the Wonky Walk together.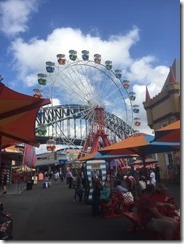 From here, we retraced our path back to the Ferris Wheel, and I took photos of the family with the iconic Harbour Bridge and Opera House in the background. They'll make for useful pictures for later on,I suspect. Then, after I signed a petition to defend Luna Park from nefarious evil doers, we bid Luna Park a fond farewell and traced our way back to Bradfield Park past the North Sydney pool.
Return to the City
We took the train back to Town Hall station and pretty much walked straight back to the room. Toni and I took some rest for about an hour or so and then stirred to start making dinner plans.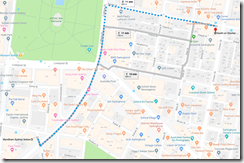 The only sushi joint on Liverpool street that we used to frequent is now gone, so I looked up Tripadvisor and found the #1 rated Japanese restaurant ( at the time) is Sushi on Stanley in Darlinghurst, so we walked there and slotted our way luckily into a table (which was indeed lucky – it's a small and very popular venue. The food was delicious and well worth the #1 rating. We actually ordered a large sashimi pack to go, so we could eat a bit more back at the room.
..and on that note, once returning to the room it was pretty much straight into the fold out bed for the little 'uns – and a bit later bed time for the adults. It's also our 13th wedding anniversary today – lucky us!
Tomorrow is our last day on holidays, we pack up and check out early and by the late afternoon ought to be back in Canberra.