Continuing on from Day 7.
Tuesday 10th of April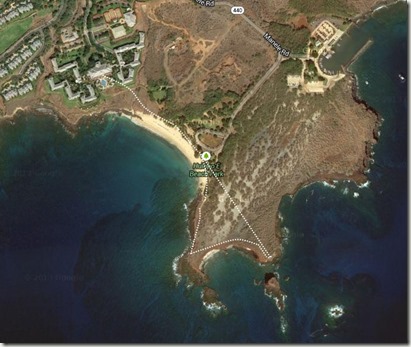 Today was similar to the previous day.  We started by heading out after breakfast to take a look at Manele Bay, particularly the interesting lava formations on the coastline.  The map above shows the route we took on the day.
The path lead past the luau grounds and out to the local beach.  There were a line of deck chairs and umbrellas, and later we returned for a dip in the warm ocean.  For now though, we continued south by south-east towards a lava outcropping off the bay.
Along the way we caught site of waves crashing against the remains of lava, worked upon for what must have been ages.  We caught site of a beach shower framed brilliantly against the greenery of the coast.
The outcropping was on a slight rise in the land giving way to a shear cliff leading to a sandy beach below.  We eventually turned back and made our way to the resort to return and take that long swim in the bay.
Later, we decided (for lack of a better idea) to go back into Lana'i City.  We pretty much caught the shuttle in, and then turned around and came right back.  To this day, I'm not sure why we went there twice.
The weather had improved upon our return, but the pool was closed yet again for the same reason as before – a child had an accident (i.e. there had been another floater).  We packed our bags and made ready to check out.
While we were waiting, Toni sat in the main building a read a book while I walked around the resort again and took some more photos of the surrounds.
The resort has some very nice scenery, including little areas marked by running water, bridges and lots of greenery.  Each room looks out over some form of peaceful and relaxing area as you can see from the photos above.
I found several nice waterfalls and managed to snap a couple of decent shots.  After about half an hour I returned to the main building where Toni was still reading her book. 
We then left the resort on the next shuttle bus to the local airport.  Bags and all, we made our way back to Honolulu airport.  From here, it was a fairly straightforward transfer onto our return flight to Sydney.
Check back for the trip summary report – coming up next.