Hawai'i and Lana'i
This was a fairly brief trip – partly because it was so close to our last one in February – but a fairly decent trip.  We generally pack a lot into our travels, and this trip wasn't an exception.  Besides a few slow days on the island of Lana'i, we did a fair amount of running around.
Pictorial Views
Here's some of the highlights in summary and pictorial format.
Highlights
Walking to the active lava flow
Exploring an isolated tropical valley
Running our feet through the warm black sand
Playing golf between old lava
Exploring the inside of an active crater
Playing a round at a world class golf course
Winning the 'tackiest dress' competition at a luau
Walking through an old lava tube
Lowlights
Toni getting sick on Lana'i
Bored in Lana'i City
Taking cheap torches to the lava flow
Kids crapping in the resort pool!
Nearly running out of fuel in the middle of nowhere
Low budget at a 5-star resort
Driving half way up a mountain and having no view
Final Thoughts
If you've been to Hawai'i before, but only stayed on Oahu or Mau'i, then you are really MISSING OUT.  The Big Island is a real taste of the old world, history merged with island traditions.  It couples natural wonders with the convenience of 5-star luxury and I couldn't recommend it enough.
Lana'i is a small island and rarely seems to come across people's radars.  I'd characterise it as a playground of the very wealthy.  It's worth a look if you have a decent bankroll, or if you are really into golf. 
I'll always be thankful to Sarah Richey and DevTest for their generosity in flying all employees and their families out to Hawai'i – it was a special gesture and allowed us a chance to explore Hawai'i in a way we hadn't previously had the opportunity to entertain.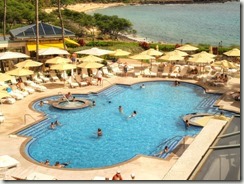 Jump to an article