We continue on after our massive day of golf on Day 6.
Monday 9th of April
Today we did a little exploration of the island.  After a morning breakfast we took the resort shuttle up to check out Lana'i City.  Our intentions were two-fold – to check out a more authentic side of Lana'i (where the locals live) and also to find a cheaper alternative for lunch.
There wasn't honestly that much to see in the city.  As you can see from the photos, it was a particularly drab day which didn't make things any better.  We poked around the city for a little while and even had a bite to eat at a little place called Pele's Other Garden.
It was affordable (yay) so we managed to strike one item off the list.  There was a small little store called the 'Dis N Dat Shop' which had some interesting items, but otherwise – except for the tiny town atmosphere – there wasn't much else to see in the town.
We returned to the shuttle stop and had to wait about 20 minutes for the return journey.  Once we arrived back at Manele Bay, we took some time out to stroll around the resort and later went back to our room to change and hit the pool for some relaxation.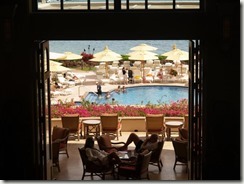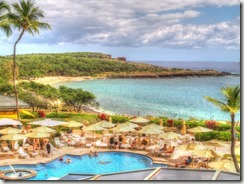 View of the main pool / Pool and beach
As luck would have it, the sun came out and bathed the main building in a wash of lovely sunshine.  We later spent time in the upstairs lounge and bar, chatting and socialising with other DevTest employees.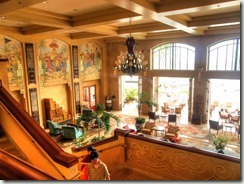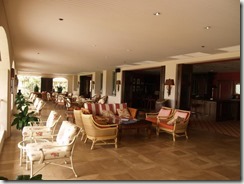 Main building / Upstairs lounge
The rest of the day was spent relaxing and enjoying the amenities of the resort.   As I recall, we enjoyed a nice bottle of Penfold's RWT Shiraz in our room in the afternoon with our friend Ruth Fisher.
Later, we enjoyed an intimate dinner in the resort restaurant and wound down the evening playing poker with friends. 
The next day, we explored the local area around the resort – with some cracking photos of the amazing coastline.
Continued – our last day on Lana'i – Day 8.