Well, I'm off traveling the world yet again.  This time it is to the USA and Canada with a whirlwind 15 day itinerary, taking in the sights of San Francisco and Silicon Valley''; followed by a conference in Toronto and a visit to the world renown Niagara Falls.
I departed Canberra around 10:30am on Sunday 3rd of July on a sturdy dash-8, arriving on time at Sydney domestic airport.  A quick transfer via bus, a smooth transition through border security and I was standing at the gate ready to depart the country.  The flight wasn't immediately ready to board, and ended up about 20 minutes late to send passengers to their seats.  The plane in question was probably older than I was – an old 747 jumbo, which had been gingerly redecorated to include basic mod cons like tiny LCD monitors on the head rests.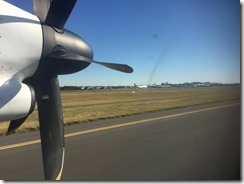 The flight itself was as smooth as a baby's backside (which I can attest to), however the family in front of me decided to let their kids play games with the lights, and it prevented me from getting any sleep on a 13 hour flight.  I managed to get to around 8 hours into the flight before I ended up in any duress.  Once the cabin had been dimmed for overnight travel, I was boxed into my window seat.  Unable to sleep, I spent most of the remainder of the flight in some kind of hellish limbo, drowsy but not out.  Restless legs kicked in with just an hour left in the flight, so that was something of a bit of grace.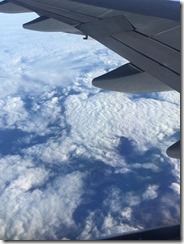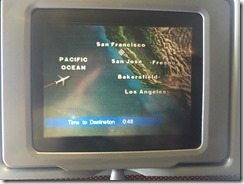 I was literally staring down the flight/route time to destination as we slid into San Francisco airport.  We had a long taxi before eventually starting to file out.  My wallet decided to attempt permanent occupancy, and I luckily realised and managed to get back to my seat to retrieve it.  This meant I was on the end of the long customs queue, but eventually made it through slightly behind a cohort of Chinese students, shuffling through individually into the United States of America.
My bag was circulating the baggage return as I arrived, and I managed to scoop it up and continue out.  It was uneventful from here on in.  My friend Will had been waiting nearby as I had been able to reach him courtesy of the airport's free WiFi (take a hint, Sydney).
Breakfast
Will took me to a diner not far from the airport called the Millbrae Pancake house.  Here we enjoyed traditional American fare, for me it was an omelette of jack and cheddar cheese, chili, hash browns and a side of sourdough bread and Smucker's strawberry jam.  The diner was very authentic, a great rejoinder to the many generic chain restaurants like Denny's.  After a good long chat and lively conversation we headed back to the car to determine our next step.
Amoeba Records
Initially our plan was to visit a Microsoft Store as Will had gotten wind of a Surface Pro/Xbox promo, but after a brief phone call, it was determined that the deal was only for students.  That plan nixed, I defaulted to the only option I could think of within reasonable driving distance – a trip to Haight-Ashbury and to Amoeba Records.
I really love this place.  The drive in was incredibly picturesque, highlighting to exceptional style and design qualities of what I can only imagine is fairly high priced, and highly prized real estate.  We parked opposite Golden Gate Park and strolled up to the huge Amoeba complex.  It seems a lot larger than I remembered when I last visited in 2007.  Inside, swamped by vinyl, I unravelled my "hit list" and started digging.  I picked up two LPs (one new, one 2nd hand) at a crazy USD $20/LP which is exceptionally good value.  Dropped back to the car to store them in the boot before continuing on foot.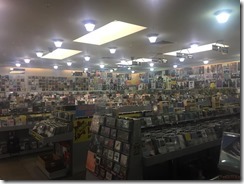 Haight-Ashbury
This is such a great part of San Francisco's character – a bit like Newtown in Sydney, very hip and alternative.  This time around I snapped quite a few more photos, and we decided to walk to the famous "Painted Ladies" a few blocks away.  We arrived to find an under construction observation site, and a reasonably subdued crowd all aiming to take pictures of the famous terraces.  After a brief stop, we started on our way back.  We wound our way through a park which reminded me of Manuka in Canberra, before tackling a small hill and to arrive at our last downtown location.
San Francisco terraces / The Painted Ladies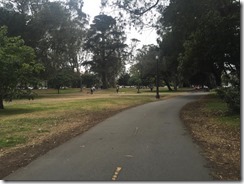 We sipped on some decent espresso as I connected to the free WiFi and had a Skype chat with Toni and the boys back home.  In the dying 10% of my trusty iPhone, my own body decided it was also low on battery after nearly 28 hours of being in various states of awake.  We traced our route back to the car and started heading to Will's place.  I maintained something of a coherent conversation before passing out for a few minutes.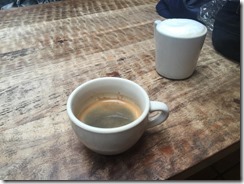 Zonked Out
Back at Will's I more or less dropped into bed and was out like a light.  It was about two and a half hours later that I stirred, and ended up out at the kitchen for some tea and a snack.  It was about 7:30pm when I Skyped Canberra again and the boys got to speak with Will and Fiona.  With laughs and tours of houses, we ended the call and contemplated dinner.  Will and Fiona took me to a local Mexican joint, about five minutes' walk from their place.  I dined on some seriously authentic Quesadilla and some super spicy pickled jalapenos before making the journey home, taking in fireworks as local residents  start to celebrate Independence Day early.
It's a wrap
Back at Will's house, it's a bit of blogging and then lights out for me.  I am as tired as I've ever been..