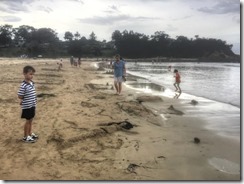 Well, new year's eve is already upon us which means we're close to bidding farewell to 2018 for good.
Not much to report this morning, still doing some odd jobs around the house.
2018-12-31: Broulee Beach Sand Sculpture Competition
After tidying up the shed and eating a lovely oysters Kilpatrick made by my darling wife, we threw caution to the wind (thunderstorm approaching) and scooped the kids into the car and drove north to Broulee.
Today was the Broulee sand sculpture competition, and we were obviously two hours late.
We incorrectly went to the surf beach initially, before realising our error and going to the main beach.
At any rate, many creations survived and are photographed here for your viewing pleasure: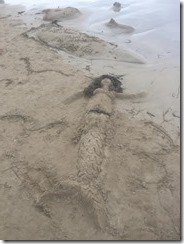 ..and that's about when the rain came. It teamed down, soaking all of us as we made a mad dash for the car, parked inconveniently at north Broulee on the north side of the bridge.
Afterwards, on the return, we stopped for some extra food to tide us over the NY public holiday.
Adding the finishing touches
Upon returning, I put the finishing touches to a new name for our house: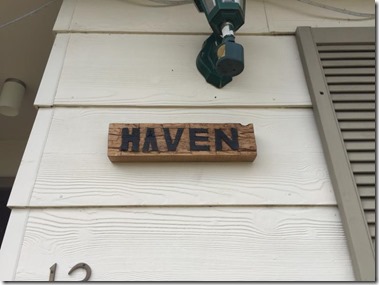 This is chiselled from some structural timber I found on the floor of one of the sheds. The name came from darling wife, a reflection of the serenity and peacefulness of being down the coast.
Thus, it represents something that was here before we bought the place, and my contribution (chiselling & varnishing) represents our contribution to fixing up the property.