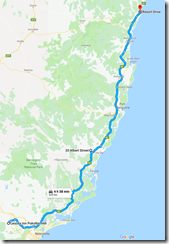 Day 2 officially kicked off with our overnight stay at Pokolbin in the Hunter Valley.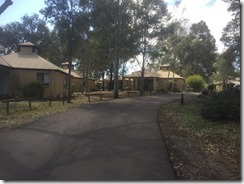 We had turned in at a respectable 10:30/11pm the night before and had a reasonable rest overnight, pockmarked by some nocturnal interference from the minions. The boys and Toni left me behind (shoeless) to hunt/gather breakfast while I enjoyed a spa bath and read a book about travelling (irony!). Their return greeted me with a hot coffee and satisfying bacon and egg roll. Let's call it a good start to the day.
We packed up and checked out without drama, and then headed entirely the wrong direction – back to Cessnock – to buy me some new shoes. This was accomplished with minimal fuss (a man with no shoes is an easy sell), and before you know it – i.e. after a quick scan through some country op shops – we're back on the road heading north. This took us on a bypass of Newcastle, and decidedly north east enjoying easy traffic and great travelling weather – not to hot or cold.
Although the journey was continually hampered by one or two minors requiring a roadside toilet break, we eventually made it sort of half way, to Taree. We stopped off for lunch which took a while, but when it arrived, everyone slammed it down thoughtfully. It still beat Maccas or some awful equivalent.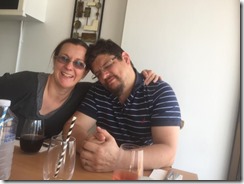 I'd have liked to have seen more of Taree, but time did not permit. I wanted to try and make it to Coffs Harbour within daylight hours, but it was hard going with continual road works between Port Macquarie and Kempsey in particular. In fact, it was road works on and off most of the way to Boambee. We stopped at the Woolworths in town and got a few supplies to last us the evening.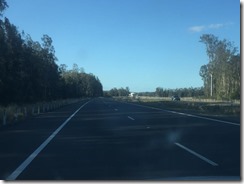 We made it to the resort right on sunset, and checked in fairly easily. The room overlooks the resort pool, and is roomy enough for our purposes. We've been members of Wyndham for fifteen years now, and it's been very fruitful.
The boys and I hit the pool whilst Toni saw to sorting things out without harassment from the juniors. It was unexpectedly warm and pleasant – we're sheltered in Canberra – and not used to sub tropical spring temperatures.
The kids are finally in bed and asleep, which leaves a few hours for adult time, which may incorporate a board game or a movie.
Back for round three tomorrow.