16/9/2018: Today we embarked on our first formal day of holidays for the 2018-2019 spring/summer season.
Unfortunately, the first day was rather like an "at sea" day; we're just repositioning for the proper holiday. First, some business – we drove from Canberra to the heart of Sydney to drop off three cases of wine. We had a delayed start – about an hour and a half – because Toni's car had a tyre with a puncture, and it took some time to figure out how to solve that problem in Canberra on a Sunday.
Late start notwithstanding, we made Sydney just before 3pm (door to door) and met my Aunt who is kindly holding the cases until our return later on. We'll be depositing the cases at Langton's for auction and sale.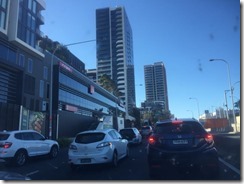 By the time we left Sydney we were batting sunlight, and with a freeway side toilet stop, struggled to reach Cessnock before 6pm. We drove direct to a little hotel/bistro (Potters Hotel and Brewery) just off the main highway leading to wine country and had a great meal while the kids played on the large play equipment.
Around 7:15pm we returned to the fully laden car and my right shoe tore open. First time in a long time I wasn't carrying a spare pair. The drive to the overnight stay was brief and uneventful.
Tomorrow we need to decide what to do. I'll be looking for a new pair of shoes! We may pay Cessnock a visit before continuing north. All I know is that I left the standard stove top peculator at home, so we won't be having daily fresh coffee

See you tomorrow.
R