What a day.  Our thirteenth day on holidays in New Zealand, and we decided to be bold.  It turns out that this ambitious plan went well, at first..
After a peaceful night, everyone stirred around 9:30am and it was well after 10:30am before everyone was bathed, fed and generally in a mood to actually do something.  The day that greeted us was a return to the perfect blue skies and temperate weather – and we decided to take advantage.
The original plan
Of all the things we'd yet to do, we hadn't really been very far north, aside from Blue Pool and Haast Pass on the first full day in Wanaka.  We had to decide between going up to Haast on the west coast, or attempting to run to the east coast.  We let fate decide – once we passed the Wanaka town centre, traffic dictated our direction.  There were too many cars heading north, so with me at the helm, we continued east towards the tiny town of Tarras.  We'd departed Wanaka a little after 11:30am, and I was expecting quite a number of hours behind the wheel.
Our journey would take us from Tarras north via the Lindis Pass to the town of Omarama, where we stopped for a brief lunch.
Lindis Pass
The pass is the second highest point of all the NZ state highways, and the highest on the South Island.  We stopped at the Lindis Pass lookout at 12:20pm where I took the following photos.  We swapped drivers here and Toni took the wheel.

The descent from Lindis was typically scenic, much like the Crown Ridge.
Omarama
Once through the pass, there's a wide open stretch of road bringing you to the small town of Omarama, which we arrived in at 12:48pm.  We found the information centre and obtained local maps before deciding on lunch at a place called the Merino Country Cafe.  Across the road from the cafe was a place called Totara Peak Gallery which was a bit of an oddity, selling books, antiques and gifts.  The interesting exhibit here was a collection of authentic props from the TV shows Hercules and Xena: Warrior Princess.
Not long after wandering through the antiques and we were back on the road. 
The new plan
It was 1:45pm (almost an hour since we'd arrived), and so we'd ruled out a visit to the east coast as it was over 110kms away, instead we decided to spend the time heading directly north (for a mere 95 kms) passed the small town of Twizel and on to Lake Pukaki and ultimately to the foot of Mount Cook.
The journey took us past some curious sites, such as a salmon farm.  There were plenty of farms, mainly cattle, with these huge water sprayer chains – some looked like they were hundreds of meters long.
Before long the scenery took a very different look, with the middle island hills and rivers replaced with snow capped peaks on the horizon.  One collection of mountains in particular seemed to stand out..  It was that collection we aimed for.  Our route took us directly past the massive Lake Pukaki with it's  perfectly azure blue waters.  It really didn't take that long from Omarama, perhaps half an hour until reaching the turn off to Lake Pukaki.
Lake Pukaki
The trip off the state highway takes some 56 kms and about 40 minutes, more if you pull over to take photos, which we did.   The lake is similar in length to Lake Wanaka, and is ringed by low and medium sized hills and mountains.  The water is crystal clear and a stunning blue and just amazing.  The route in forces you across no less than three single lane bridges, and winds along the west side of the lake and past a few hamlets, lodges and a scenic flight centre.
The Approach
What beguiles you on this inbound journey is that it just seems to take forever to get to your destination.  The mountains seem so close and yet, you're actually over 50 kms away initially.  However, it's worth the wait because as you get closer you get a feel for just how huge the collective mountain range is.  It seems permanently covered in snow and there are several glaciers inside the national park.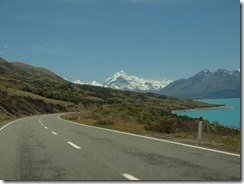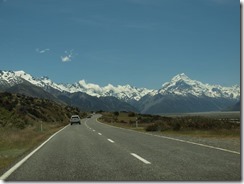 Getting closer / Getting closer still
Sir Edmund Hillary Alpine Centre, Mt Cook Village, Aoraki, Mt Cook
The trip is worth it.  Thee scenery is superlative, and we are surrounded by mountains covered in snow – in late December!   The Mt Cook Village is actually fairly large, and the Hermitage hotel and the Sir Edmund Hillary complex is quite impressive.  The centre features a museum dedicated to the late Kiwi legend, Sir Edmund Hillary although we did not have enough time on our hands to appreciate it.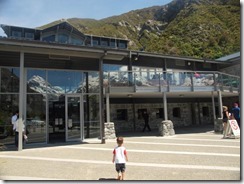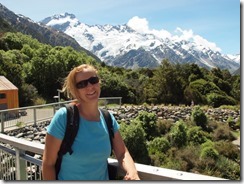 Outside the Hillary Centre / Toni and Mt.Cook
Instead we roamed the area around the centre and even made our way down to the really impressive visitor's centre which had one of the most impressive entrances/designs I've seen in New Zealand.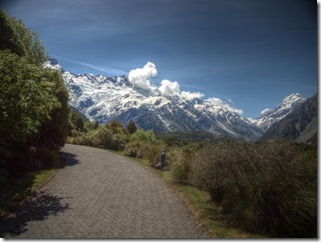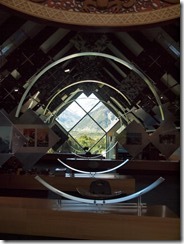 HDR Shot towards Mt. Cook / Entrance to the Visitor's Centre
The walk between the centre and the visitor's centre was a visual feast, the mountains are a natural wonder, and the weather was absolutely perfect.  We found a drinking fountain and quickly refilled all our water bottles as the boys and Toni and I were incredibly thirsty from the long drive.
Most of these shots required no additional post-exposure processing.

Panorama from the visitor's centre.
As we'd hit nearly 4pm, we decided we couldn't linger any longer – no matter how tempting it would have been to attempt even a short walk.  We collected the boys and all jumped back into the car for the return journey.  It was a fairly brisk return to the state highway, no stopping for photos – just a straight run, overtaking a few slow cars in the process.  Once we hit the highway, it wwas only 5 or 10 minutes before our first (and officially only) stop on the way back to Wanaka – the interestingly named town of Twizel.
Twizel
Our stop in this small town was mainly influenced by two rather unimpressed kids in the back seats.  We entered the town and quickly found our way to the supermarket where Toni went inside and returned with some 'road snacks': Cheezels, a milk choc drink, sweet and sour worms and kiddies snacks.  On the way past earlier in the day, we'd spied some large machinery set up as a sort of park, so we stopped on the way out of town and let the kids run around them for a while.
We didn't dwell too long as it was now 4:40 pm and we still had at least another hour and a half or more of driving left to do.  So we bundled the kiddies back into the car and continued south, breezing through Omarama without stopping and overtaking a few slow drivers leading into the Lindis Pass.
The pass itself was quite busy, but there were a load of very (very) slow vehicles attempting to cross the pass, including a double trailer semi of all things.  After some gutsy overtaking, our car and one other managed to pass all the slow vehicles just past the lookout, cruising down the other side.  I was quite hopeful that we would make good time and be back, pool side, in Wanaka before 6:30pm. 
That was until….
Disaster Strikes!
Well, it wasn't anything to do with us.  Just as we were about 10 minutes outside the north of Tarras we came to an abrupt halt.  A line of traffic had formed in front of us and had ben at a standstill for some time.  No traffic was coming in the opposite direction – nor had any traffic come against us across the pass.  It turns out that there had been a very nasty vehicle accident about 3kms in front of our now stationary car.
Traffic behind us..
People were getting out of their cars, and a car in front of us took the horses out of their horse float and let them walk/poop/eat on the side of the road.  There was no information about what was happening other than drips and drabs of information gleaned from the occasional car which was being let through in the opposite direction.  We had stopped around 5:30pm and it wasn't until about 6:45pm that we managed to get clear of the accident site – a delay of over an hour and a quarter.
I kept the boys entertained by running around the outside of the car and sticking my head in to tickle them, but it was tough going keeping them occupied.  They got quite restless, yet we could only have them out of the car for a little bit of the time, should the line of cars move forward (they seemed to be letting about 10 cars at a time go, alternating between directions).  At one stage I just walked along the road taking photos, and waiting while Toni caught up.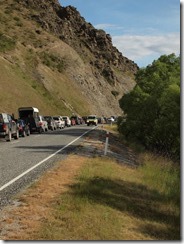 Once we were in the clear we wasted no time in hitting the open road.  We didn't get back to Wanaka until 7:30pm, which in the end made for one very, very long day.  Dinner and bed routine followed, and it's now 11:30pm as I write this article.  I have no idea what our plans will be for tomorrow, as Toni is still sick.  She is a little better than yesterday and she seems oddly better outside the resort apartment.  If we have a good night, it might help a lot.
Check back tomorrow..