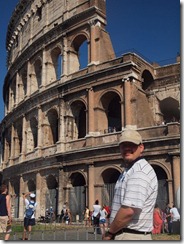 We spent so much time in Rome exploring I hadn't had the liberty of writing any updates.  As such, I'll try and capture as much as I can from memory.
Rome, in summer, gets really hot.  Like, Australia hot.  On our first day it reached roughly 42'C.  On our second and third days, 38'C and 40'C respectively.  This is a city which gets sauna-style hot and we were right in the middle of it.
Not that Rome isn't without a few subtle ways of compensating.  There's quite a lot of shade, and there are hundreds of free flowing fountains throughout the city, so it is easy to stay hydrated.  It's also a very walkable city, which was perfect for us.
..and we walked!  Occasionally, especially on the last day, we used the city's Metro system to our advantage (to cover ground we'd never have made otherwise) but the majority of the time we were hitting the pavement – but it was totally worth it!
Our first day in Rome was a knock-out.  We managed to see many attractions which I'd thought we wouldn't do inside of two days.  Our time in Rome started with a post-cruise shore excursion to the Vatican Museum, the Sistine Chapel, St Peter's Basilica and Square.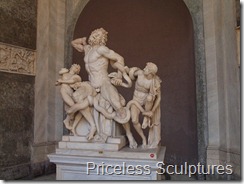 There is no easy way to put into words the immenseness (size and visual impact) of the Vatican.  The museum easily rivals what is on display at the British museum (probably besting it, but who could really say?) with pieces of art and history dating back to well before the time of Christ.
Of particular interest (to me) was the hall of maps and the circular room (which is based on the Pantheon, which we'll come to shortly). We did not see more than about two hours worth of rooms and there is far too much to discuss for this entry, but suffice to say it was quite overwhelming.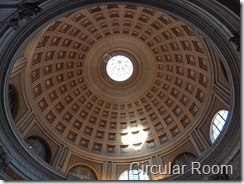 We moved along past the tapestries and the hall which led to the Pope's residence and onwards to Michelangelo's masterpiece – the Sistine Chapel.  We had about half an hour or so to marvel at the (somewhat) recently cleaned vistas shining down on us from 60ft(?) above.
What a masterpiece indeed!  Michelangelo devoted a decent portion of his adult life – by himself – to design and implement this brilliant work which disarms you, leaving you with nothing else to do but risk serious neck injury strain by taking in the full design and range of colours used.
The Japanese company who financed the cleaning did so in exchange for copyright on the work of art, so no pictures were allowed (though it didn't seem to stop too many people).  Personally, I think copyrighting anything of this magnitude is a crime against society (it should be free for all to enjoy) and nothing older than 100 years should ever be copyrighted, period, but that sentiment is for a different blog..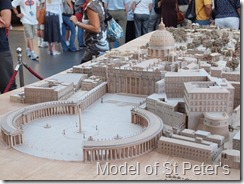 Moving on from the Sistine Chapel, we made our way down some steps and through some massive archway and around to the front of St Peter's Basilica. 
Having come via the museum and as part of a tour group we were directed straight in – no lines for us – and immediately as we entered (without the time to reconsider my choice of words) my initial thought (which came out as an audible term) was "Jesus!", although perhaps that was Bernini's intention when he designed the mega-church.
We were standing inside the largest domed building in the world, staring up at letters on the walls which were easily 7" tall, with statues even taller looking down on us.  Suddenly, dimensions and scale flew right out the window.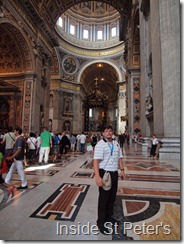 It was purely impossible to judge distances, heights or dimensions.  The scale is..impressive and hard to fathom until you are actually standing inside.  Within the Basilica there are a number of remarkable works of art including marble statues and even mosaics.
The main attraction, of course, is the dome which towers above.  Admission is free, so as you would expect it is very popular.  Besides looking up (a trick learned in the Sistine Chapel) you must also look out for the many hordes of tourists, pickpockets (yes indeed) and worshippers.
Once suitably sustained, we exited to the vastness of St Peter's square.  The square apparently holds up to 72,000 people, although probably not comfortably.  It was a hot day, so we did what we could to stay in the shade.
More people!  We finally wrapped up the four in the Vatican gift shop before boarding the bus for the city center.  There is a five story parking garage especially for buses which I thought was interesting,
We  were dropped off at Terminus station, where we caught a cab to our hotel, a short drive away near the Coliseum.
The hotel is boutique and located in a small street just off two main roads: Via Cavour and Via Nazionale.  We found it an ideal location for the Metro, ancient Rome and the other central attractions.
Continued in Part 3.