Our last full day in Rotorua was a slightly shorter day than our average.  As we had some prep work to perform to be ready to depart tomorrow, we time boxed our activities until 2pm, which means that we were back at the resort around 2:30pm.  Today was also unique for the fact that it was the only day we've spent exclusively in Rotorua/Mourea.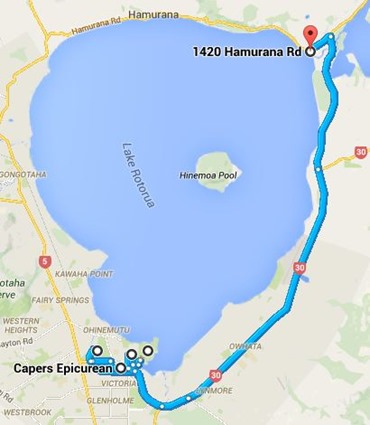 We  started the day at our usual 8:15-8:30am timeframe, with all showered and fed by 9:30am although we didn't get underway until just after 10am.  We arrived in downtown Rotorua at 10:30pm and to our first destination of the day.
Kuirau Park
It turns out that the park hosts local markets every Saturday, so we were blessed (unexpected bonus) and cursed (lots of parking/traffic issues).  The park is a free public space which also happens to be on top of more geothermal activity.  Although there are no hot springs which you can swim or bathe in, the park does feature a foot washing facility which is quite pleasant.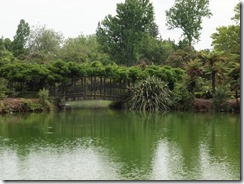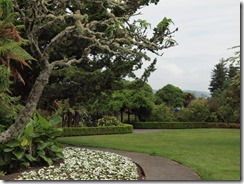 Geothermal park with sculptured gardens
After the foot spa, the boys found a splash pool for kids and decided to enjoy it a bit too much – Damian in particular ended up soaked. 


Kid's splash pool located conveniently next to a geothermal area 
We spent an hour and a half at Kuirau Park noting that the time was fast approaching midday.  The boys were starting to get irritable, so we decided to drive a few blocks into downtown Rotorua.
Downtown Rotorua and lunch
The first logical stop was the Rotorua visitor's centre to pick up some more detailed maps and a brochure on eating options.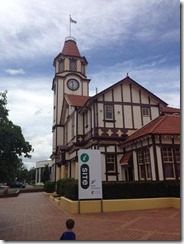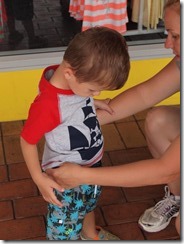 Rotorua Visitor's Centre/Jake gets new threads
We decided to try a place not far from the centre, two blocks away.  We moved the car and eventually found parking – 90 minutes free.  As both Jake and Damian were still quite wet from the splash pool, and we happened to park almost directly opposite a children's store which was having a up to 50% off sale, both boys got new shorts and Jake a new T-shirt.
Capers Epicurean / Smoked Salmon omelette
We had lunch at Capers Epicurean which featured a kid's room and plenty of space.  It wasn't exceptionally cheap but it did have the ambiance of a boutique brasserie, and the food was pretty good.  Jake had an iced chocolate and some chips, whilst Damian enjoyed part of a crumbed schnitzel.
Once everyone was done, we did some window shopping up and down the street before returning to the car.  Our next destination was decidedly prettier..
Government Gardens
Occupying first rate real estate on the lake's edge, the Government Gardens are home to the Rotorua museum, a theatre, an events centre and manicured gardens. 
You enter through a set of wooden arches which lead to to lawns and a roadway which takes you up to the impressive looking museum which looks suspiciously like the visitor's centre.  If you turn your head to the left whilst looking at the museum you'll notice a children's play area, which is exactly what Jake did.
Wooden arches form the entrance/Rotorua museum
Jake charges the camera / roses in the Rose Garden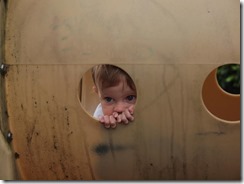 Damian peeks through the play equipment
So naturally we killed about half an hour watching the boys scamper around the playground.  Jake in particular was fond of the multiple slides, shooting down each one in short time.  Damian is getting much more adept at climbing up to, and sliding down the slides as well.
By this stage, the weather looked ominous, so I decided to backtrack and get the car which was parked near a heritage hotel just outside the gardens.  I brought the car into the gardens and parked it closer to the lake.  Toni and the boys met me and we walked to the lake side.
Lake Rotorua
We didn't linger too long at the side of the lake because the weather looked like it would turn at any moment.  We rationalised that we needed some quality time back at the resort to get ready for packing, so after a brief time near the water, we headed back to the car.
As we were on our way out, Jake noticed a sea plane preparing for take off.  At the same time I noticed an old riverboat steamer coming in to dock, so I put the car in reverse and we took a few minutes to watch the water craft.
Toni spied a covered Maori long boat, so I stopped and got out to take some photos.  It was quite a magnificent specimen, very large and sturdy looking, inlaid with shells.  After taking a few shots and trading exchanges with an older foreigner who jokingly expressed a desire to move the bars around the boat cage, I returned to the car.  We drove back to the resort stopping by a Gull petrol station which featured car vacuuming and car washing facilities which we took advantage of.
Back to the resort
Once we were back at the resort, I downloaded photos onto the laptop.  Not long after, I proposed a swim and spa – Damian and I went down to investigate the water temperature and returned with a report of 'acceptable'.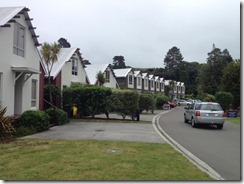 The Resort
Pool and Spa
The whole family went down to enjoy some time at the pool.  There was a slide to one side for children 3-7 to launch themselves into a wading area, which Jake (and surprisingly Damian) thoroughly enjoyed many, many times.  In between, we took turns in the spa to warm up.
We spent an hour in either the pool or spa before deciding to call it a day.
Dinner and packing
Toni cooked a lamb rack for dinner and Damian went to bed early after a day without a meaningful sleep. 
We have much to do to be ready to fly out tomorrow!