Welcome, 2015.
Odd numbered years have always yielded surprises for us, and for the most part they've been good.  Toni and I met for the first time in an odd-numbered year and were also married in an odd-numbered year as well.  Damian was born in an odd-numbered year, we bought our first house in an odd-numbered year; we travelled Europe – twice – in odd-numbered years.  In short, odd-numbered years have been good to us.  Let's hope this one is as well!
Where we left off…  Rotorua, New Zealand.  The clock tolled midnight and I was lounging on a couch watching the celebrations unfold via a medium flat screen TV.  Toni and the boys were in the adjoining room asleep, although I did thoughtfully wake Toni to wish her a happy new year.  It was raining outside, and off in the distance there was the odd bark of a firework, but the rain seemed to cloak the celebrations.
When we woke, it was between 9:00am and 9:30am depending on whether you were Jake, Damian, Toni – or I.  We hadn't really unpacked much and what was disturbed, Toni had set right last night.  In essence, all we needed to do was shower, eat food, drink coffee and then meet the motel owner outside the door and he thoughtfully packed our bags into their station wagon, ready for when we needed to go to the airport.
After a brief spell on the playground equipment, Toni, Jake, Damian and I crossed the road to the adjacent attraction – Rainbow Springs. 
Rainbow Springs
It's sort of like a zoo or a wildlife reserve for native New Zealand animals (mostly threatened) as well as tropical birds.  Entry wasn't exceptionally cheap at NZD $72 (2 adults, children free) but we were restricted to walking distance, so who could be choosy?
So we paid the admission and entered.  There was the usual commotion about getting photos taken at the entry (I wish places would quit doing this) but once that was to one side, we started to explore the park.  It's not huge, and there are some areas which are just.. empty.. but the cages and environs they do have are generally engaging.  There are two main parts, the first is a series of walkways around or indeed on top of natural springs which eventually run out to Lake Rotorua.  Rainbow Trout freely migrate upstream (hence the park's name) and congregate in a pool of water called the Rainbow Pond.
Our first stop was actually a large walk in bird aviary although being close to midday, all the birds were roosting so there was little to do, aside from a bit of bird spotting.  We moved along, and realised we were not in an opportune location to be near the vaunted bird show (special mention of this show was made when we bought admission).  So we moved around to the first animal information session.
As we swung our way around the place, the first "interactive" things we did was an intro to – of all things – an Australian lizard (pictured).  Unfortunately, it was a case of look, don't touch – which made it a bit less interactive than we'd hoped.  We did a loop, and found our way down to the New Zealand trout viewing place and learned a little about how they are protected by law in NZ.  It's actually illegal to buy or sell trout, but it is legal to catch them.  An oddity.
Moving along, we headed to the center of the park and Toni and Damian stood in line just before 11:15am while Jake and I did a recon mission around near the waterfall and beyond, with a statue of a Moa.  We backtracked and linked in with Toni and D, and made our way in for the 11:30am bird show.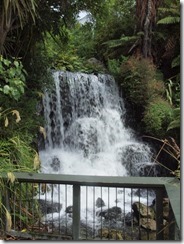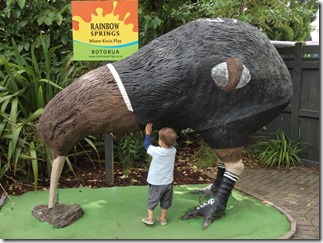 Waterfall / A statue of an extinct Moa
Tropical Bird Show
The show kicked off, and we were introduced to a number of different bird types, a couple were Australian including a Galah and a Sulphur Crested Cockatoo.  The birds performed various tricks, the highlight would be one of the Macaws which flew through no less than two hula hoops in a row.  I didn't get too many useful photos, unfortunately.
Our next destination was a ride called "Big Splash" which Damian just narrowly qualified to ride (by height).  It was sort of like a log ride which took you through a mixture of a long distant New Zealand (Maori villages) and dinosaurs.  Eventually the river winds to a building which contains an elevator which takes the boat along a run and then down the long drop into water – and we mostly got coated in it.
Once we finished, we were forced to the kid's playground (Jake wanted to go there first) so we killed some time as Jake climbed all the equipment.  Our last attraction for the day was the nocturnal house, which is home to Rainbow Springs' family of native Kiwi birds.  The building housed a sort of museum, with lots of information about the birds, their endangered species status and so forth.  The enclosure part which contained the real deal was also inside.
Now before I get to the enclosure itself, let me just say that shooting any animal in near darkness is pretty tough.  It took me a while to locate the bird itself, but mainly because I was looking for something the size of a mouse.  An actual Kiwi is probably closer to a chicken or a hen in size, but it's also quite black and hard to see in low light.  That said, and understanding the difficulties of shooting in low light without a tripod, please accept these photos I took today:
I was totally amazed, especially at the second photo above, which was the last one I attempted inside the enclosure.  It was lit by low level red and blue lamps, hence the colouring (which is accurate).  I used a HDR post-exposure to punch up the highlights, but it's not that different from the raw shots.
We stayed on site to have a brief lunch which meant that we were returning to the motel just around 1:20pm, in time for our inevitable departure to the Rotorua airport.
Our host John drove us out and we made it just in time before the check in cut-off time.  We checked our luggage and waited briefly to go through customs and security, doing a spot of shopping at the gate.  It was a very short wait, and then we were boarding.
The Return Flight
Well.  The flight itself, clocking in at around 3 hours and 20 minutes was quite perfect with no turbulence and textbook take-off and landing.  However, as a family we earned ourselves an unfortunate distinction out of all the passengers.  It started with Jake throwing up on himself and his seat.  There were no barf bags, so we could do little but watch in slow motion.  After a clean up and the replacement of his chair, things went smoothly.. until Damian woke up. Within minutes of being fully awake, D shat himself so badly that it flowed into the seat behind mine.
To cut a long and messy story short, we were selected to be quarantined upon landing.  This would require a bit of Q & A with Australian quarantine people upon landing, but something must have transpired because just before landing we were told that this was no longer required.  We were able to de-board with everybody else.  Strange.
Sydney International Airport 2.0
 
Touchscreens/Last view of New Zealand
Back in the tackiest airport in the South Pacific.. Nothing says tacky like forcing recent arrivals to navigate through generic duty free shops before they can make it to customs.  Whoever is responsible for that should be taken out and shot.  Especially lining up chocolate, toys and LEGO on the main thoroughfare so that little kids can commence tantrums to get what they want (Jake did not do this, but it's not hard to fathom it would happen) – it's despicable.
We cleared customs and found our bags were pretty much first out on the conveyor (last on first off?).  There was an extended wait for the stroller which came through oversized luggage return.  Once we had it, it was through to quarantine where we declared wood products, select food and that we'd been near agricultural land/freshwater.  No problems, all clear.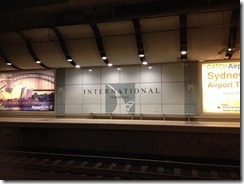 I took Jake and left Toni and Damian at the public pickup location (a long walk from the terminal through a terrible carpark).  We took the train to the domestic airport and then caught the Blue Owl shuttle to the long stay carpark.  Luckily, I literally walked straight to our car – despite fears I'd be unable to remember the exact location.  Brought the car out, swung by and picked up Toni, D and our luggage and we took the M5 out of town, heading for Canberra.
We've just arrived and it's 9:10pm.  First thing is home and rest! 
The trip (believe it or not) isn't over… check back tomorrow to find out what happens next!