It is my last full day in California and I spent my morning touring the old and new buildings at Facebook.  By the time we returned home, it was time for me to do some writing, grab some Mexican for lunch from across the road (a tasty quesadilla) and then relax a little.  Will had some work to do, so I spent some time charging various devices, sorting through photos and organising my bags and flight details.  I also gathered up most of the clothing I'd worn during the week and made use of Will and Fiona's laundry facility.
Towards 3pm, I spent a little bit of time playing the Xbox One, trying to hide the nervousness I had about even entertaining the notion of driving in the States.  Once Will had finished a conference call, I decide to stop being a coward, and face the concept of driving myself.  After Will had verified the insurance implications of lending his car, I scooped up the keys and bravely set forth to terrorise the streets of Silicon Valley.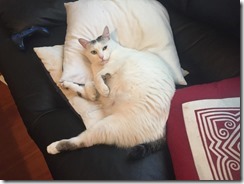 Niki eyes me carefully, wonders why I haven't gone out to explore the sights
The Plan
My original plan was to drive to San Mateo and visit an official Lego store (for reasons why, head to http://leorepublic.com).  However, I rang the store there (and also in Santa Clara) and neither store had the brand new Technic Porsche 911 in stock, so I decided against the trip there.
I didn't want to travel too far, mainly as a practical matter in that I wanted to be able to return in a timely fashion for dinner, so I opted to drive from Redwood City to the university campus of Stanford.  There's no particular reason why I chose this destination.  It was close by, and I figured it would be interesting to see an Ivy league college up close and personal.  Stanford is a very well regarded west coast university, and it is a very attractive location.
After fighting with the car's GPS navigation, I opted to use Google Maps on my iPhone and made my way gingerly over to Menlo Park, astutely avoiding the busy 101 expressway.  It was an uneventful journey, and I managed not to make too much of an ass of myself driving on the right hand side of the road.
Stanford University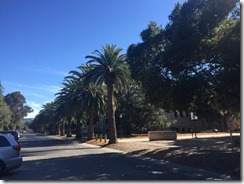 University Ave is palm tree lined, and quintessentially Californian, dripping with sunlight
Turning into Stanford, and cruising along at 25 mph, I can't  help but admire the wide boulevard style road, lined with beautiful palm trees.  My destination is the main quad, but first I have a need to find parking.  Owing to a preference for right hand turns, I end up turning off just before the main area.  Lost in a side road of permit parking (which had actually expired at 4pm), I found paid parking outside a large museum.  I carefully  parked the car and located the ticket machine, finding out that parking is free after 4pm.
Cantor Museum
Almost immediately opposite the car is the Cantor museum, with large columns and staircase, it sort of beckoned.  I didn't really know what to expect, so I decided to check it out anyway.  It was unclear to me whether there were any admission costs – and I am flat broke – but I shuffled in and tried to observe what was happening at the main desk.  A couple were being addressed by staff, so I lingered – trying to decide what to do.  A security guard pointed out that the two women had gone inside, and then realised I wasn't with them.  He helpfully motioned me to the desk to obtain a map and I thanked him.  He reminded me the museum was open to 8pm and I remarked that it was nice to have longer hours on a Thursday.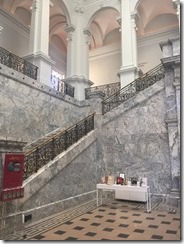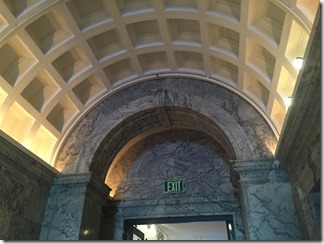 Lobby and stairs / Entrance to the Stanford Family gallery
The lobby is impressive, with large staircases on either side.  I started by walking through the centre of the building, momentarily a little disorientated.  The supplied map, once correctly orientated, gave me a good navigational overview of how to proceed.  I started in the Stanford family collection, and text on the walk briefly summarised the history of the establishment of the university, the museum and the Stanford family itself.
Portraits of the Stanford family / An early projector
In the lobby, I overheard a guide indicating that photography (sans flash) was permitted, so out came the iPhone.  I traced my way around the bottom level, inspecting a number of different works.  The highlight here would have to be the collected works of one Rodin; a sculpture room being the main attraction, as well as some of the following below:
The rooms were classified either by an artist or by a region or time period.  Most of the world's major areas were represented here, including Asia, Oceania, Europe, Africa and India.  The highlights were in the rotunda areas, my favourite being the statue of the thinking man (pictured).
Works of Art
The second floor featured additional works of art, some of the paintings depicting an sincere depth of emotion and mood.  Some of my favourites follow:
After completing all rooms, I returned to the foyer and took a few more shots of this impressive building. 
The main lobby
Without further hesitation, it was back outside to that gorgeous Californian sunlight. 
Main Quad
The main buildings were about a 10 minute walk away, and I took my time, watching as others enjoyed the grounds of the university.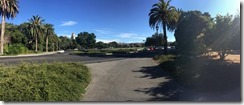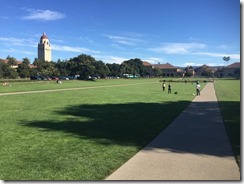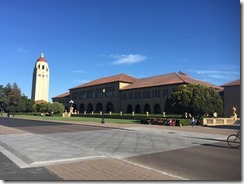 The observation tower looms over Stanford
The approach to the main buildings take you through a huge green area which was teeming with visitors from all walks of life.  People were in fine spirits, some frolicking around on the perfect greenery.  I approached the main quad and carefully negotiated the large road passing alongside.
The buildings have a Spanish or Mexican inspiration to them, with copious usage of stone arches and orange sun kissed tiles.  There's a lot of very discrete artwork woven into the old buildings, and they are somewhat overshadowed by the extensive artwork on the chapel, in the heart of the buildings.
I make my way towards the imposing observation tower which can be seen for miles around.  It's not as direct a route as I'd thought, one of the buildings is being completely gutted and rebuilt.  Once I made my way around to the front, I discovered that the observation tower was unfortunately closed.  I took in the surrounding area, and continued exploring.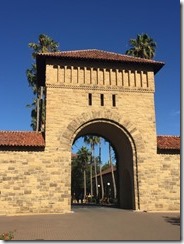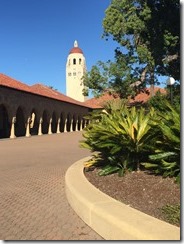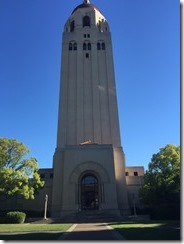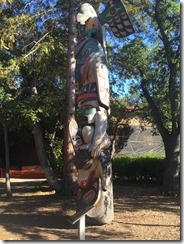 The Architecture blends in well / Pity the observation tower was closed
On my way back, I passed a large North American Indian totem pole innocuously located surrounded by trees and light foliage.  From here I crossed the road and looked back at the main complex from across the luscious green lawn.  I made my way back down University Ave and took a turn right to look at a modern building I'd spied on the way in.  It turned out to be a concert hall, but it looked closed.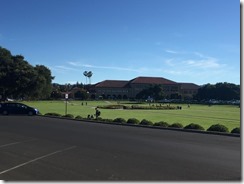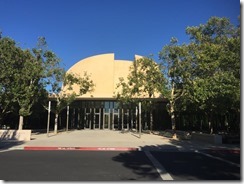 A last look back / Concert Hall exterior
I'd been at Stanford for over two hours now, so I decided it might be time to call it a day.  I returned to the front if the Canter museum and located the car.  Here I made a serious mistake – instead of grappling to understand the car's navigation system, I started down the road.  Unfortunately this meant that I ended up turning the wrong way and headed deeper into the campus.
Flustered with the system, I ended up pulling over at one point and texting Will who called me and pointed out the critical thing I'd missed in committing to aa destination.  I quickly dropped the call and proceeded the correct way back out.  On the way back to Will's place, I took advantage of the route and stopped to check out a local Target.  Their collection of Lego was very underwhelming – I should have driven to San Mateo to Toys R Us or the official Lego store.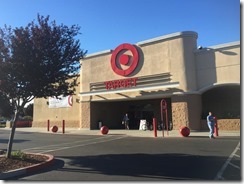 A local Target, very expansive inside
Once back at Will's place we decided on eating out – my shout.  We left and took the 101 north to a Chinese restaurant called Hot Wok.  Here we dined on rice, kung pao beef, pot stickers and tsing dao beer (except for Fiona).
After dinner we opted for a twilight walk around the block, swiftly owing to the bracing wind sending cool night air our way.
Before long we were back in Redwood City, and it was time for a little Xbox One gaming and a Skype call to Australia.  With little of my time in California remaining, I checked into my Air Canada flight, sorted my bags and prepared for the next day's journey…. to Toronto, Ontario – CANADA.
The next article might be a little shorter.  I'm writing this article as the Air Canada flight makes its way across the north of the United States, the trip will occupy the majority of the day as I'm flying east.  We're projected to land in Toronto just before 5pm EST, and I expect it will take about an hour or so to clear customs, register for the conference and then get the airport express to the city.  From Union Station, I'm tempted to walk to the place I'm staying at, although Google estimates it will take around 22 minutes on foot – not much fun with two bags.
In any case, stay tuned for more updates.