Well, we've almost finished our last day in Wanaka.  It's been one heck of a vacation, so sad to close it out on a sad note.  Damian's still quite sick, although Toni seems to have recovered.  This will make travelling tomorrow a wee bit more complicated than it otherwise would be.
Although this was our last day in Wanaka (and, indeed, the South Island) we did actually get around a little bit.  The balance of the day was spent at the resort trying to consume our remaining food and also to take a last dip in the pool and get our luggage in order.  With Damian being sick, it's made the day a bit difficult – he is throwing up and has loose bowels as well.
Jake and I took a trip out to the Wanaka airport while Damian slept and Toni did some packing.  Our destination was the "Warbirds & Wheels" attraction which was a little bit further down the road from the Toy and Transport museum.
Warbirds & Wheels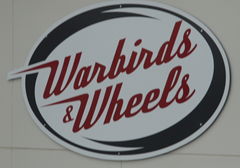 This location houses a collection of fighter planes (mostly replicas) and a decent collection of luxury classic cars.  Although W & W lacks the gross volume of vehicles that the Toy & Transport museum boasts, it does have an exceptionally classic and rare collection, i.e. what it lacks in volume, it makes up for in quality.  If I had to pick between the two, I'd probably go with the Toy & Transport museum because it was NZD $5 cheaper and covers a broad range of classics, plus all the toys.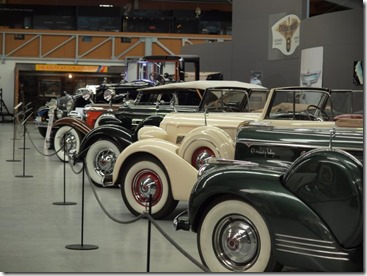 Lake Hawea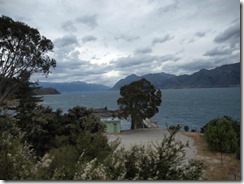 On the way back into town, Jake and I took a 'slight' detour north and checked out Lake Hawea in more detail.  Unfortunately for us though, the wind was blowing gale force and it was not wise to even consider getting JB out of the car.  So I took a few strategic shots and pretty much moved on to the local beach.  Same problem here, so a quick couple of shots and then I returned to the car and we headed back to Wanaka.

Lake Wanaka
We naturally couldn't make it back to the resort without a stop at the Rotary playground on the lakeside.  I took an opportunity to snap one last panorama of the lake, with weather very similar to our first day here.  Jake enjoyed the play equipment and eventually we made our way back to the resort.

Back into town
Back at the resort and we decided to take one last trip into town.  We parked on Brownston street and walked the small central area on foot, with Damian in the stroller.  Our objective was to acquire some additional gifts/souvenirs. 
People were getting ready to head out to a concert up in Cardona, so it was exceptionally busy and all the bars and restaurants were packed.  We picked up a few things and headed back to the car.  I took a few last photos with Toni's iPhone, and then we bid a final adieu to Wanaka.
Tomorrow we're 'in transit' and will be that way for.. quite some time.  Oh, and tomorrow just happens to be New Year's Eve!