Merry Christmas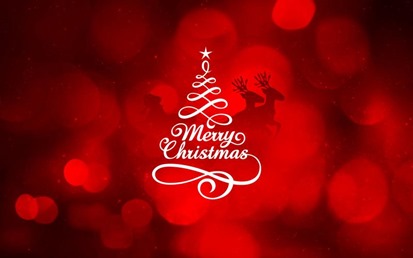 From us to you on this Christmas Day – a very merry Christmas – wherever in the world (or world wide web) you may be!
Christmas Morning
It was just another morning, really.  We'd celebrated Xmas before we departed for New Zealand, and we didn't see the logic in bringing wrapped gifts over just to haul them back to Australia again.  However, we didn't want the kiddies to miss out entirely (although at their age, it's debatable whether  they grasp the concept of Christmas) so we bought them some Christmas themed Lindt chocolate teddies which may or may not have been a wise idea..
Christmas Afternoon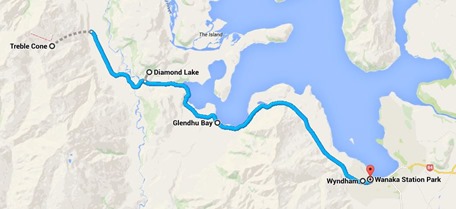 In the afternoon we got organised after a very lazy morning relaxing at the resort, and decided to head west towards Mount Aspiring.  We basically took the road as far as it goes before it becomes unpaved (gravel), which is to just beyond the entrance to the Treble Cone ski lifts.
Once we turned around, we took a slight detour south towards the Diamond Lake recreational reserve, which we'd seen on our way across a single lane bridge.  The path down to the river was very treacherous and I, of course, didn't bring sensible foot ware – instead maiming my flip flops instead.
Once we'd spent a little while with our feet in the clear cool stream which was rapidly running into the lake farther beyond, we retraced our path back up to where the car was parked.  It was far easier on the return leg (uphill) and bought us some time to consider what to do next.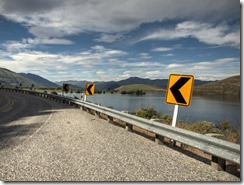 On the way back, we stopped briefly above Glendhu bay, and I snapped a couple of photos across that expanse of water with views east to Wanaka.  We drove back past the resort and returned to the nearby playground.  Jake and Damian played on the equipment with Toni monitoring close by while I took some lake snaps.  Eventually the boys and Toni came down to the lake, and we spend more than a half hour in and out of the lake.  It was very pleasant, not too cold – just right.
We picked up our collective stuff'' and then headed back to the car.  The return to the resort could be measured in minutes; it's just around the corner.  We jumped into the pool to close out the afternoon, before retiring to the room for the dinner and bed routine.  Not a bad way to wind down Christmas Day, 2014!