Starting the day off
..as we always seem to do – with an in-room breakfast. It really saves big $$$.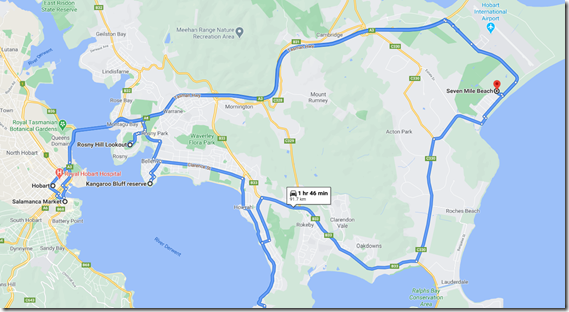 Itinerary – Hobart
Because we happened to be staying near Hobart on a Saturday (not a coincidence), I knew I'd be able to take everyone to visit the famous Salamanca Place markets. You'd miss a lot in with COVID these days, but back in January personal space was a myth in Hobart.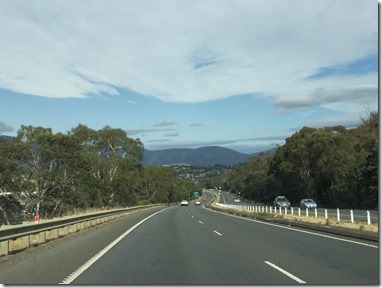 So after breakfast we bundled into the hire car and set west for the state's capital. We found a multi-storey carpark and left the car. It was a few blocks away from the markets, and we went on foot – once we got our bearings. I can't say that I remember downtown Hobart that much from when I last visited in 1990, but I have to assume it's changed somewhat.
As you can see from the photo, a lot of sandstone coloured heritage buildings, similar to the financial district in the Sydney CBD. A mix, really, with late 20th century buildings blended in. A confusing contrast at times, but memorable! The sidewalks nice and wide, and the area easily walkable. The weather was simply superb, as you can see. The city centre is nicely situated, and everything is within a reasonable distance, although more spread out that you might expect. No, this isn't the Melbourne, Sydney or Brisbane CBD but it has its own charm.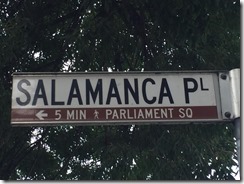 Salamanca Place is not hard to find. Especially it would seem, on a weekend. The market is massive, it has overgrown the plaza and runs up to the west. When we arrived it was a wall of people as far as the eye could see – which obscured the stalls themselves and made life tough for our kids. We took it slowly and calmly, trying to get a decent look at what was on hand. It is an impressive city market, drawing stall holders from the greater Tasmania and beyond. We did a complete "loop", stopping where we could.
Some fresh raspberries were procured for the kids (and gone in an instant). There were some hopeful vinyl sellers, but their prices were.. as steep as Mount Wellington! I later doubled back later on as there was a reasonably priced copy of King Crimson's "Islands" (early 70s AU copy) which I picked up for about $40. Toni bought some candles made from wax granules selected by all four of us (scented, of course). We walked back into town to hunt for lunch, ending up at a place called Abel Land – a Taiwanese café of all things. It hit the spot.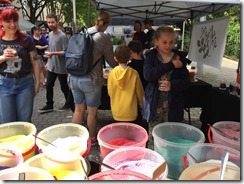 Then we split up, as I wanted to check out a record store nearby. So I went up to Music Without Frontiers on Liverpool street and wade through a number of crates of second hand records, coming away with a few.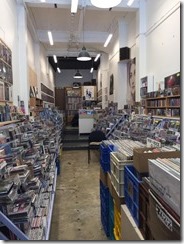 Music Without Frontiers
I catch up to the family at an underground EB Games, and then drag them up and over to another store – Tommy Gun Records. A few extra LPs added from their back room of second hand vinyl (plenty of new stuff at the front). The final stop – for me at least, was the Soldas Music Shop, which had troves of second hand stuff. Scored a VG copy of Cream's Disraeli Gears – AU mono for $15.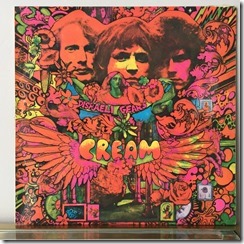 We hit Target on the way back to the car, as the kids were getting a bit grumbly about all the record stores…. and so in due course we returned to the road, and east bound back to Seven Mile Beach. Here the kids and I laid waste to the resort's pool as we rode the afternoon into the early evening. We made dinner in-room (save money) and thought that would probably do us for the day – but the caveat emptor struck, and we decided not to be lazy, and take in a bit more of Hobart. Back to the car.
We're not done yet
We drove to the Rosny Hill lookout, to get a better view of Hobart from across the Derwent.
With the sun already well into decent, we were battling the clock as we navigated the local area. We went further south, keeping to the shore, to a place called Kangaroo Bluff reserve. Here there is an excellent example of a publicly accessible fort from a bygone era.
The boys played the daredevil role, scaling the tops of the mounds within the old fortress, to Toni's chagrin. We walked the length of the facility, inspecting old artillery and exploring the passageways. I did stop and ponder how much my father would have enjoyed this, being a former Artillery officer and enthusiast of things that go BANG. At any rate, we returned to the car to continue the adventuring through the area. We went to Tranmere to find a playground for the kids, but it was a bit underwhelming.
We'd passed a slick looking playground near a football stadium at Bellerive (near the water), so we backtracked and gave the kids 20 mins of play time while Toni and I had a look at the beach.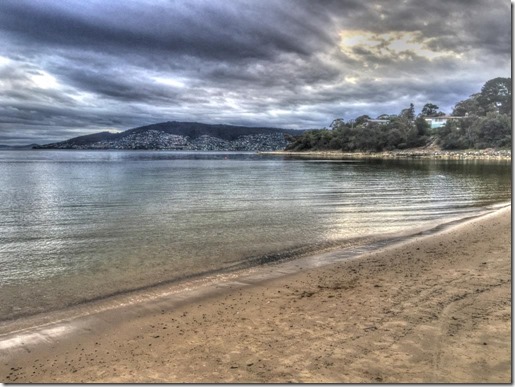 'We really started to lose the light now, so with the objections of two kids ringing in our ears, we bundled back into the car and drove east back to Seven Mile Beach.
Once back, it was time to straighten up and get prepared for the next day – and to explore the sheer height of Mount Wellington.