This morning I woke at around 8:45am which is a little uncommon these days.  I willed myself to get up and go through the normal motions of showering, changing and preparing breakfast.  Luckily, I'd had the foresight to do some basic shopping the night before, so I was able to fuel myself with coffee, cereal and toast.

Actual view
On with the show!  I had to do a little surfing (of the web) to decide on what to tackle first.  In the end, I decided to walk to a Metro station and catch the underground up to Yorkdale Shopping Centre.  The weather was pleasant, and the exercise is doing me well.  Along the way, I took a peek at more of downtown Toronto.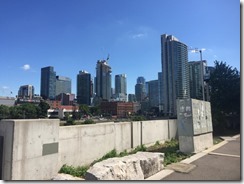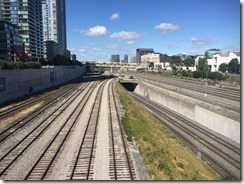 City views / Crossing over the lines
Once I reached the station, I inserted $20 into a token machine, which spit back 6 tokens and some loose change.  The tokens are quite quaint, a nice little souvenir to be sure.  I inserted one into a nearby turnstile and waited a few minutes for a northbound train.  The train moves along well enough, although I had a few stops to go.
The shopping centre itself was quite nice, spacious even.  It was under some renovation, so some areas were closed off.  I located the Lego store, and enquired about a set I was after, unfortunately they had run out of stock.  I decided to target the next item on my list: getting a local phone number.  For this I found a Virgin Mobile kiosk and loaded $40 worth of credit onto a sim.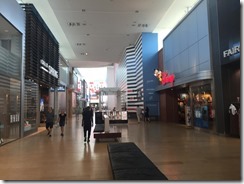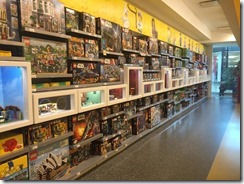 A wide promenade / Well stocked Lego shop
Shopping done, I returned to the Metro for a ride back to downtown.  This time I travelled to Union Station, to make it easier to commute back to the unit.  On the way I encountered the blue army of Blue Jays supporters making their way to Rogers Centre for the afternoon game.  I was thinking about ascending the CN Tower, but the queues were quite long, and the sky was an uncertain and patchy grey.  I blew past the stadium, picking up two items from the team shop, then made my way home.
Back home I prepared a basic lunch, and decided on what to do next.  There's quite a few green areas dotting the harbour side, including one right outside my place.  I decided to go for a walk, and it ended up taking almost three hours.  I started at Canoe Park which is right in front of my building, then followed the harbour side east until York street.  From here I passed Union Station, the Hockey Hall of Fame and then continued east until I reached the St Lawrence Markets.
After I'd browsed through both levels of the markets, I exited and made my way to King street, and decided to follow it all the way back to Spadina Avenue, and from there back home.  It was a long trek, and there were many highlights including: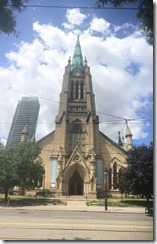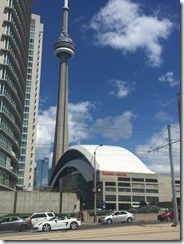 Old Church/Rogers Centre with roof open


View from my balcony


View from Canoe Park, below my building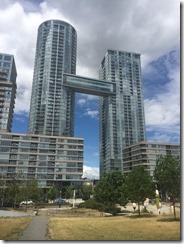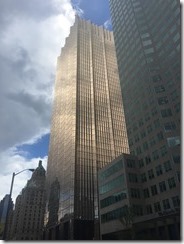 View of my building from Canoe Park/A golden building?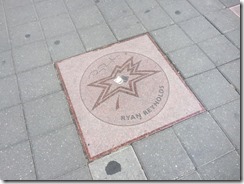 Waterfront/From the Canadian Walk of Stars (Deadpool)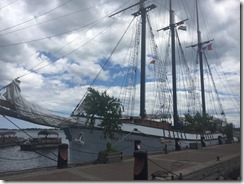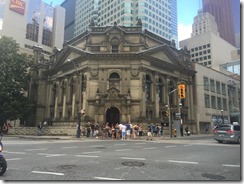 Harbour side/Hockey Hall of Fame
I cleaned up, made a coffee and pulled photos from my phone.  I probably should have been resting, but instead I spent time on the laptop until it was time to head to the Sheraton for the Microsoft Australia trip to Niagara Falls.  More to follow.
To be continued with a supplemental (visit to Niagara Falls).