Wednesday 4th of April
Following on from Day 1, we started the next day with a bold intention – driving to the south east coast to visit the famous Volcanoes National Park.  This was a really, really long day – possibly one of the longest we've had in all our travels before and since. 
It all starts early on the second day, as we planned our trip south from Kona…  I'm going to break this up into two articles, as there's a lot to cover.
On the way south-east, we enjoyed many of the Big Island's attractions.  We started south from Kahaluu-Keauhou and drove towards Kealakekua Bay which was made (in)famous as the site where British Captain James Cook was killed.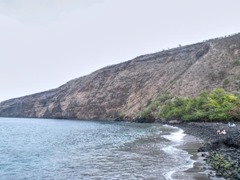 We took the only road route down to the bay, which took us to the southern point.  Here we found two things: there's no road access to the Cook Memorial, and instead there's an interesting (and slightly creepy) stone temple called the Hikiau Heiau.
A Heiau is a Hawaiian temple which is usually composed of a large stone platform.  This particular Heiau sat just off to the side of the bay where we parked, and seemed to add a slightly surreal feel to the area.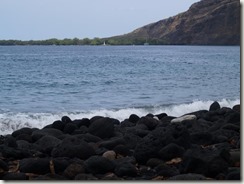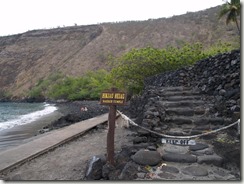 The Hikiau Heiau & Kealakekua Bay
The bay provided a good look at a very formidable cliff face..  it was possible to imagine what it must have been like to visit as a member of Captain Cook's crew, more than 200 years ago.  While we looked out at the Cook Memorial off across the other side of the bay, we stopped to check out the ancient site before continuing back out to the main road. 
As we headed out of the area, back to South Kona Belt Road, we passed an interesting church which, after about 20 minutes of web surfing, I finally discovered is the Catholic church of St. Benedict ("The Painted Church"), located appropriately on 'Painted Church rd.'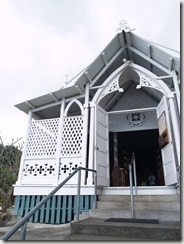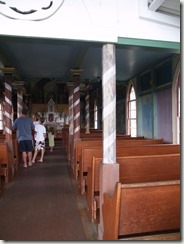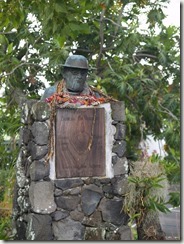 The Painted Church and surrounds
The church grounds featured a memorial to a 'Father Damien de Veuster' who it turns out is the patron saint of lepers, and who was a missionary to the Hawaiian islands.  After a brief investigation of this plantation style church, we continued on our way south. 
As we continued on our way, we couldn't help but notice the many signs advertising local Kona coffee plantations.  We stopped at the Royal Kona Visitor's Centre where, besides sampling from a range of espresso shots, we also were treated to passionfruit infused tea and other oddities.
Probably the most unique thing about the visitors centre was that it was located at the top of a tree.  A coffee tree house, if you will.  After buying a few bags of Kona coffee and some tea, we trundled on ourr way south again.
It wasn't long before the fangs of hunger hit us, and as luck (or timing) would have it, we ended up in the tiny town of Naalehu, which intersects the journey to Green Beach on the southern tip or to Whittington Park, to the east.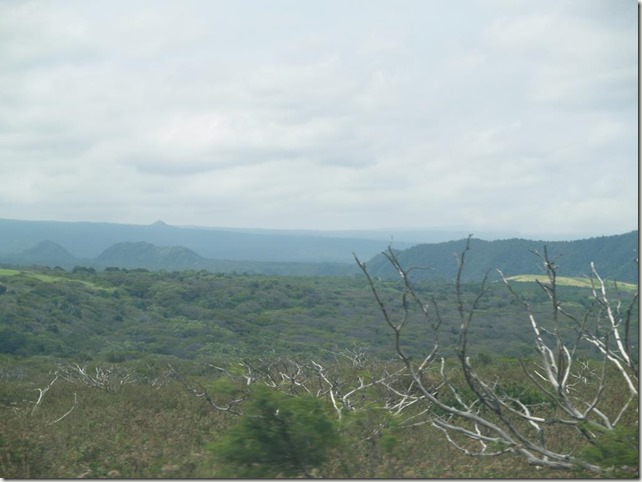 Crossing the southern tip of Hawai'i
There's a small diner called the "Hana Hou Cafe" which proudly laid claim to being the "southern most cafe in the United States" (it is, look it up).  If I recall correctly, I ordered either burger which wasn't half bad.
We understood that Green Beach required 4WD capability, so we continued east towards Volcanoes National Park.  En route, we stopped at the aforementioned Whittington Park and spent some time wandering the impressive black sand beach.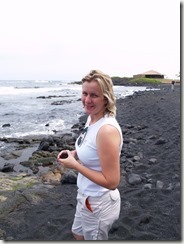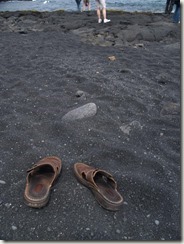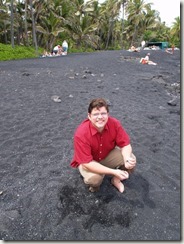 The black sand beach at Whittington Park (Honu'apo)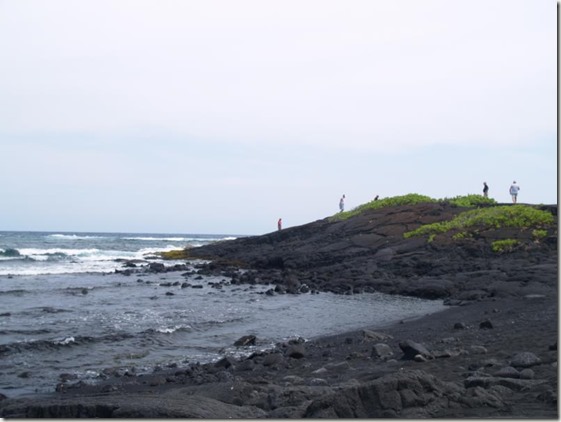 The beach is a spectacular site, made primarily from volcanic rock which has been worked upon by the sea for years and years.  There's quite a lot to see here, including the remains of an old wharf.  We spent about half an hour, resting our feet in the surprisingly warm black sand which was also surprisingly smooth and relaxing.
After a while, we jumped back in the car and continued the drive north-east, to our destination – Hawai'i Volcanoes National Park, which I'll cover in Part 2.