Tuesday 3rd of April

As I mentioned in the previous article, we had a fairly ordinary time getting to the Big Island, but once we arrived things improved.
We collected our bags and caught the courtesy bus to the car hire facility, where we picked up our hire car.  We got about five minutes out of the car hire place when the fuel gauge dropped to a half tank.
Worried, we turned around and went back and traded for an alternative car, and then continued on our way to our hotel.  Our hotel, the Sheraton Kona Spa and Resort, is located in the Kahaluu-Keauhou area, south of Kailua-Kona.
By the time we arrived, the day had brightened significantly.
Checking Out Kahaluu-Keauhou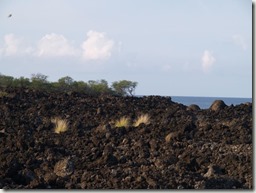 As check-in was a tad later in the day, we dropped our bags at the Sheraton, then decided to explore the local area.
The Kahaluu-Keauhou area is covered fairly extensively by old lava flow, creating a very interesting blend of luscious greenery blended around the jagged dark volcanic rock which must have swept through the area many years ago.
Notably, the resort sits surrounded by an extensive golf club (the Kona Country Club) which we decided we'd need to play whilst staying at the resort.
We waited a little while, exploring the scenery, before returning to the Sheraton and formally checking in.  If memory serves, we took a rest before checking out the rest of the resort.
At some point during the day we visited a local Walmart and Borders in the Kona area.  We bought two cheap torches from the Walmart and also some bottled water.  I bought a number of Criterion Collection DVDs from the Borders.
The Area in Pictures
After sleeping for most of the afternoon, we enjoyed the rest of the evening at the resort, using the resort pool and eating on site.  The resort has excellent facilities, and an amazing pool which wraps its way from the ocean side through into the interior of the complex.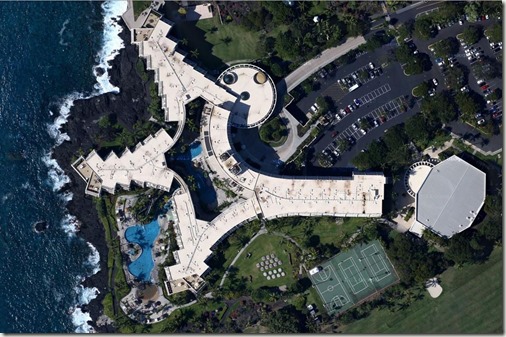 The Sheraton Spa and Resort  [C/-Google Maps]
Given how tired we were, it's not terribly amazing that our first day was not high on tourist activities.  As I recall, we found a local sports bar not far from the resort for a fairly inexpensive dinner option.
I'm glad we rested because the next day was chock-a-block full of adventure.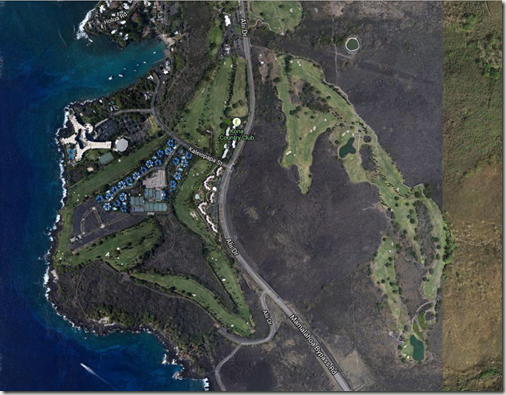 Sheraton Spa and Resort and the Kona Country Club Golf Course [C/-Google Maps]
Check back for the next article (it's going to be a long one!) – Day 2.