After a brief problem figuring out how to operate the hotel shower, we made our way into Manhattan (we decided to have breakfast in town).
We found out that there had been a shooting in the hotel lobby last night and the presence of about three or four policemen seemed to back it up. It was no big deal, but still a little disconcerting (welcome to New York??).  The ride in was uneventful, and then we stalked our way down past the Port Authority to the Circle Line tours dock.
En route we enjoyed breakfast of eggs and bacon on famed New York bagels. I thoroughly enjoyed the experience! After breakfast we were free to enjoy the brilliant day. As I said before, New York was stopping at nothing to ensure we had a good time and the weather was cooperating. It was a lovely clear day; the only problem was it was pretty cold.
We redeemed our CityPass vouchers for admission on the semi-circle 2-hour cruise of the Hudson River and Manhattan. The tour guide was very informative and the sights were simply amazing. I think I took more photos on the boat then I did at any one time during the whole trip.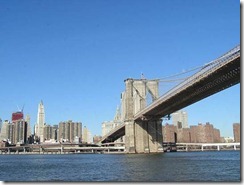 Brooklyn Bridge
The trip took us past some of the most well known locations in New York and New Jersey including Ellis Island, Governor's Island, the Brooklyn and Manhattan bridges, the United Nations and, of course, the Statue of Liberty.
We sailed east right up to the famed Statue of Liberty where we got some very, very good photos. My initial impression was that the Statue wasn't as tall as I had imagined, although it was a little unfair having just been up the Empire State the previous night.
Doubtless many immigrants coming in to the US would have been dazzled by this enormous statue. It was very cold outside on the deck; the temperature on the Hudson was about 3'C and chilling. Luckily the boat we were on came equipped with a heated interior deck from where we enjoyed many Manhattan and New Jersey views.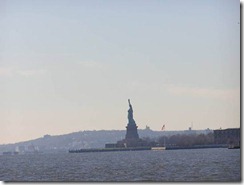 Statue from afar
The harbor tour was easily one of the best value parts of our trip and is highly recommended for any potential trip to New York. However, if you visit in December wear something warm!
Visiting the Statue of Liberty is easier and less time consuming on the tour as an alternative to the long, long wait to go to Liberty Island.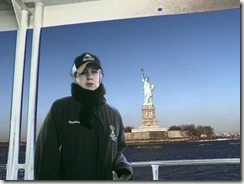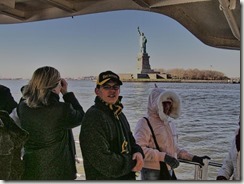 Toni and Rob with the famous Statue
Once our tour had concluded (there isn't much to write about since the photos I took are worth a thousand words each) we took the subway down to Battery Park ready to head out to the Statue.
As a side note, the last Manhattan stop on the line is an oddity. The station was built to only service the first five subway cars.  This leads to humorous last minute car surfing!
What we found when we arrived was easily a two or three hour queue to get through security and get out to the Statue. After vowing not to miss any more of New York, we decided to pass on going out to the Statue. We had, after all, been very close up on the tour and there was so much more to see in New York!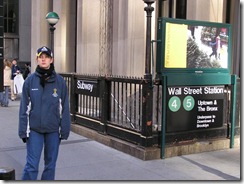 Toni with the Statue of Liberty and at Wall Street
Having made our decision, and also bumping into a fellow Aussie who had just flown in from London, we set off for the financial district, which is in lower Manhattan. We walked uptown from Battery Park, using Broadway as a general guide.
There was a large statue of a bull; we don't really know what it was doing in the heart of New York's financial district. In a little while afterwards, we found Wall Street which is a very small street. The famous street is quite understated although it carries a lot of financial history. There was a gorgeous church nearby which I got some good pictures of.
After we had finished looking through the area we headed for the World Trade Centre ground zero site. What a morbid and saddening place. As I stated previously, we were saddened at the obvious damage the attack has caused the skyline.
Standing at ground zero makes the damage far more obvious. The site is huge. The buildings which would have stood there a few years ago must have indeed been impressive.
A shrine to the buildings has been attached to the security fencing around the site. There are pictures of the original development of the twin towers (and the support scrapers around them) as well as first hand photos of ground zero after the attacks.
It is a very sad place to visit, but we thought it was necessary to pay our respects to those innocent people and brave fire-fighters and policemen who lost their lives back in 2001.
A mass transit system connecting New Jersey to New York runs through ground zero. What amazed me was how the system survived. It was quite obvious that before Sept 11 the site must have been a central hub of Manhattan.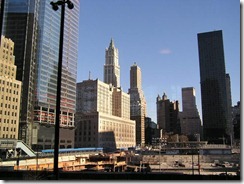 The site of Ground Zero in 2004
After we dwelled at the site (with many other people paying their respects) we took a brief walk over to the "Winter Garden" which is located opposite the site. It is a building made entirely out of glass and containing an indoor assortment of plants.
What makes the building so special is the fact that despite its glass construction, it remained untouched after the towers collapsed. It also offered a good vantage point to view the site.
To refresh ourselves, we decided since we had an extra unscheduled hour (we had factored a large portion of Statue of Liberty for Saturday afternoon) to walk across the Brooklyn Bridge. So we took the subway to the first stop in Brooklyn and then found our way back.
The bridge is a lovely old structure, the first to bridge the span between New York's three boroughs. It was built about 120 years ago and it is spectacular. The views from the motorway are awe inspiring and the photos I took came out particularly well.
After crossing the bridge we took the subway to Grand Central Station where we finally located the famous Main Terminal concourse. You've doubtless seen it in some famous movies before. After some photos, we headed for Bloomingdale's – the well known fashion retailer.
I was suffering from lack of a decent winter coat so it was top of the list. On our way there we witnessed a real life NYPD arrest – about three undercover policemen took down two people in the street.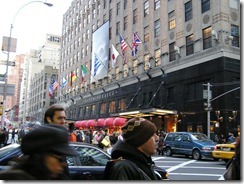 Outside Bloomingdale's
Bloomingdale's was a very large store. Their Lexington Ave/59th Street store in NYC is their largest in the country. It is very tastefully decorated and the staff were very helpful.
It was packed with shoppers trying to get their Xmas gifts. We ended up making a few purchases including a Hugo Boss great coat for me, three Xmas decorations (a tradition for Toni and I) – including a Swarovski crystal snow flake.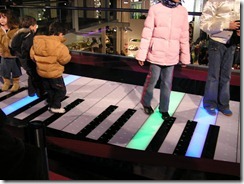 Inside F.A.O Schwartz
Our next stop was FAO Schwartz which is most famous for being the location of the giant electronic piano from the Tom Hanks' movie "Big" (1987). Toni purchased a little plush doggie. The store was a real department store for toys.
It also featured a "Hot Wheels" toy factory where one could purchase and build a custom Hot Wheels car (I thought Ross would have enjoyed it!). FAO Schwartz also stocked the largest stuffed animals I have ever seen. In particular, they had a life sized Giraffe, Elephant and a Horse costing around $4000 US to $15,000 US for the Elephant.
So we continued on to Tiffany's on Fifth Avenue. Tiffany's is a very upscale store which has been around for a long time. We were initially unable to go up beyond the ground floor due to a false fire alarm having being triggered. We purchased two champagne flutes (for our collection) and another Xmas gift for a lucky someone.
Tiffany's is quite fancy. When Toni entered the store she was dressed in sneakers, jeans and a Rugby World Cup 2003 jacket. Imagine the look on the security guard's face when Toni I half barrelled over a well dressed gentleman as she went through the revolving door!
The store is split into four floors, and between the third floor and the fourth floor is a lovely marble staircase which we used to ascend. We purchased our items and were seated in plush chairs, attended by about three staff and had the items expertly wrapped and packaged.
I think they knew we were buying for the sake of buying at Tiffany's and so they threw in some excellent extra bags and gift cards (thank you!).
We decided to opt for the early night again, so we headed back to Flushing.